Welcome to Super Sketchy Sunday!!!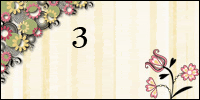 And welcome to our CELEBRATION week! We celebrate that we have reached over 1000 followers and that we have the best challenge participants there is!  And to honor our followers and participants, we've asked 11 of them (one for each DT) to be our Guest Design Team this week.
So instead of a card, I have the honor to introduce Hannah to you!!!
Hannah is an über talented card maker. She has this wonderful clean and simple style with a wonderful eye for color and a great sense of humor. I've loved her style ever since I first met her over at 365 cards. So go check out her personal blog HERE, and pop over to 365 cards and take a look at the sketch and the lovely Guest Design Team!
Did I mention there is a PRIZE??? It is!!! A $20 gift certificate to Prickley Pear Rubber Stamps store!!! Wohooo! So in honor of this, I had to play with some of my own Prickley Pear stash!!! Which brings us over to the "some more" part…
***
Here is my take on this weeks Card Patterns sketch. Loved it as usual! Used some lovely Prima and a couple of Prickley Pear Rubber Stamps. 
And here is a page I did last night based on the July 1st sketch from Stuck Sketches.
The photos are from Midsummer evening when my brother and I took our children out for a swim in our childhood lake. It was perfectly beautiful. 
Thanks for stopping by!
Tesa